An innovative and trusted biotechnology company
KenCare Holdings (Singapore) is a biotechnology company that owns the patent of Extracellular Matrix Extraction
from Human and Animal Umbilical Cord and Placenta, one of the richest sources of proteins and collagen.
As the intellectual property owner for the Umbilical Cord and Placenta's Cellular Matrix Extraction,
we focus on the applications of this resource into:
Stem cell therapy for skin and body anti-aging
Stem cell therapy for skin and regenerating and rejuvenation
Stem cell therapy for scar repair and wound healing
Stem cell therapy for enhancing immunology system and nutritional supplements
And make our brands that are growing worldwide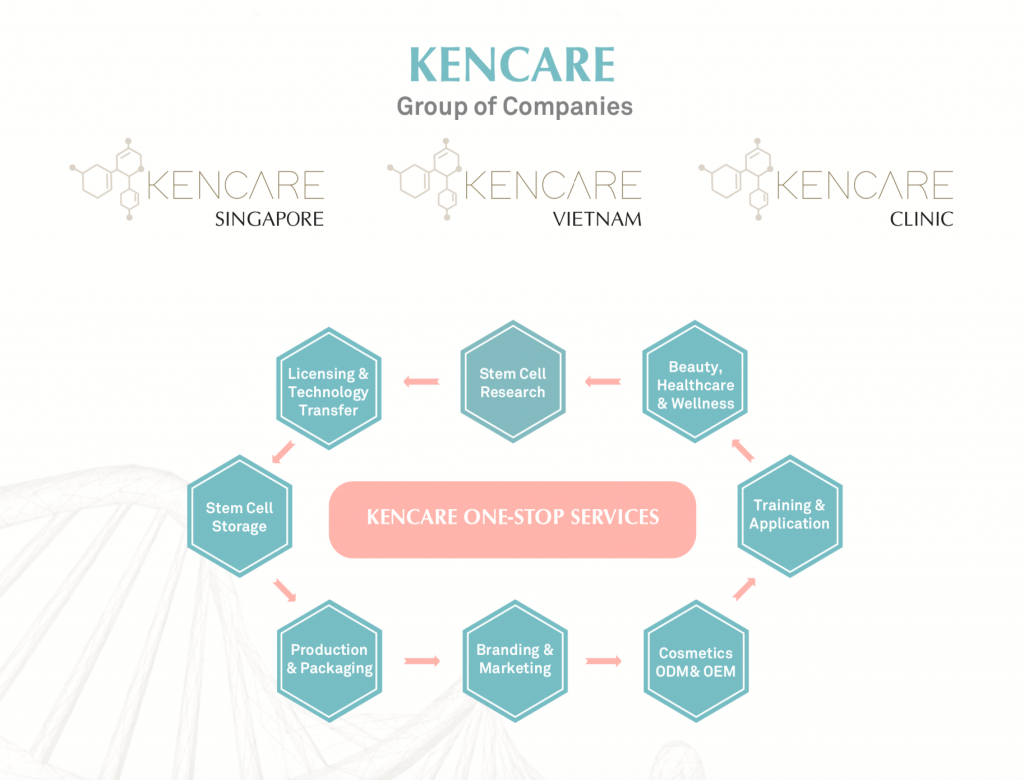 With reputable brands P'CELL and JuviSkinCare under this patent, we aim to advance stem cell research and regenerative bio-medicine for the discovery and development of diagnostics and treatments. We do this to find more effective solutions for stem cell regeneration, anti-aging, wound healing, skin care, and skin aesthetic.
Our Brands
| | | |
| --- | --- | --- |
| P'CELL | JuviSkinCare | KenCare Clinic |
Our Products

Stem cell products for skin care, skin regeneration and skin rejuvenation
Stem cell products for burn treatment and wound healing.
Stem cell products for scar repair and advanced aesthetic treatment
Stem cell products for functional foods and premium health supplements
Stem cell products for total anti-aging and preventing stem cell failure

Our Services

Stem Cell Research and Development
Stem cell banking, stem cell culture and stem cell therapy
Stem cell technology know-hows licensing and training
ODM, OEM stem cell skin care, wound care and supplement products
Skin aesthetic treatments, Premium health screening and Wellness services.
Our System

R & D labs
Cosmetic Manufacturers
Branding, PR and Marketing Company
Training and Application Centres
Medical Clinics

Our Companies

KenCare Holdings (Singapore)
KenRidge Asia (Singapore)
KenCare Vietnam
KenCare Clinic
StemKos